Al-Nur Qur'an Academy Teacher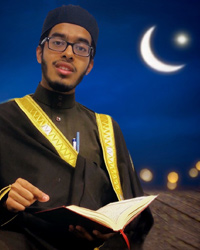 Availability of Qur'an Teacher
( Virtual only during pandemic period, during registration you can pick the session)
Monday-Friday:     3:00pm-8:00pm
Saturday/Sunday: Flexible
Comments and Restrictions:
Male from 4 years and above
Beginner to Hifz (memorization) of the Qur'an
PROFILE
I memorized the Qur'an in a very young age with the blessing of Allah and have a strong passion in its sciences and exegesis. I have years of experience in teaching and applying what's been taught to me from my various high caliber and prominent teachers. I am a fast learner with little training who can adapt to any situations at any given time. I make the workforce very friendly and make sure I am known to solve any problems.
EXPERIENCE
HEAD INSTRUCTOR, ISLAMIC INSTITUTE OF ORANGE COUNTY; ANAHEIM, CA — 2014-2016
QUR'AN INSTRUCTOR, INSTITUTE OF KNOWLEDGE; DIAMOND BAR, CA — 2013-2014
MANAGERIAL PRINCIPAL, MAJSID QUBA; ROWLAND HEIGHTS, CA — 2016-2017
PART TIME KHATIB/IMAM, MAJSID QUBA; ROWLAND HEIGHTS, CA — 2016-2017
PRIVATE INSTRUCTOR, ONLINE — 2018-PRESENT
EDUCATION
Mount San Antonio College, Walnut, Ca — Associate Degree, September 2013-June 2015
Institue of Knowledge, Walnut, Ca — Certficate in Arabic grammar and morphology, 2013-2015
Ijazah in Hafs An Asim from the way of Shaatibiyyah from Shaykh Muhib California, 2013
Ijazah in Hafs An Asim from the way of Tayyibah from Shaykah Badiah Ghazal California, 2014
Ijazah in Hafs An Asim from the way of Shaatibiyyah from Shaykh Hasan Abu Nar NY, 2015/2016
Shortest Ijazah in this world in the Recitation of Asim from Shaykh Yunus Alghbani Egypt, 2016
Shortest Ijazah in this world in the Recitation of Abu Amr from Shaykh Nurul-Amin Egypt, 2017
Ijazah in the recitation of Ibn Katheer from Shaykh Ibraheem Al-Dowsari, Jeddah, 2017
Masjid Nabawi Haram, Saudi Arabia — Intensive study in various grammar books and Qiraat;
Aljrumiyyah, Almughni, Balaghah and Matn Shaatibiyyah 2017-2018
SKILLS
With the Blessing of Allah very proficient in Quran
Very good at mentoring kids
Traveled to many places for Quran and Shariah; Egypt, Qatar, Saudi Arabia, Jordan, Palestine, Dubai, Turkey, and Bangladesh
Very professional in fixing and correcting one's recitation
Strong in communication and public speaking
Experienced in giving short weekend seminars on Maqamat
Experienced in giving lectures (Khutbah)
AWARDS
Biggest worldwide Quran Competition in Dubai 2017 (the  first time for America)

Won 1st place in voice
Won 2nd place in memorization

Won the biggest worldwide voice Quran competition in Malaysia 2017
Won numerous national Quran competitions in the USA 2014-2016